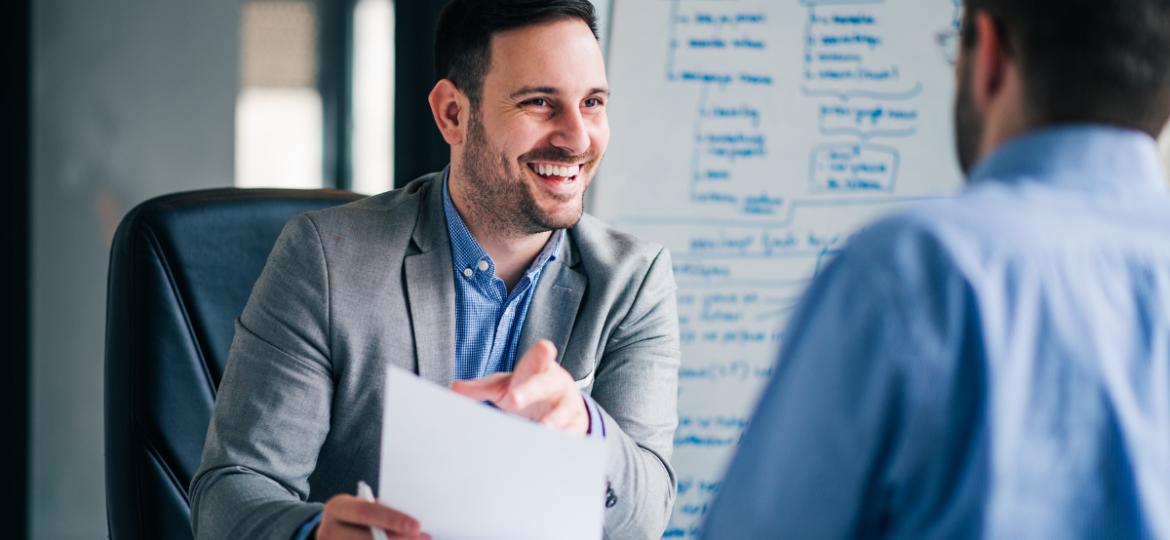 Finding a job can be tricky and complicated for job seekers, even in a candidate-driven market. A job seeker's best chance at success often comes down to their connections, skill set, and ability to present themselves well in interviews.  
But, one thing most job seekers struggle with is finding companies that are the right fit for their needs, lifestyle, and values. Unfortunately, this often leads to many candidates losing valuable time and energy interviewing with the wrong companies, or worse, getting stuck in a job that's not the right fit. 
Working with a recruiter is like having a guide who can help you narrow down your search, so you're only talking to companies that are worth your time. But recruiting is a two-way street – to be successful, you need to know how to work with a recruiter to find a job. 
What Is a Recruiter?
Recruiters are third-party resources that companies hire to assist in finding and attracting candidates to their organization. They take the time to understand a company's long-term goals and use their network of contacts in the industry to help connect companies with candidates who are a good fit. This saves employers time and money by narrowing their choices down to a select group of talented individuals. 
For a recruiter to find the best match for their clients, they need to know their candidates with the same depth and intimacy with which they know their clients. They need to understand the candidates' career goals, aspirations, salary requirements, and any other detail that may pertain to what they're looking for. Additionally, recruiters need to assess how well a prospect may fit into an organization's culture and how that career path aligns with not only the company's long-term goals but also the candidate's career goals. 
What Are the Benefits of Working with a Recruiter? 
When you're working with a recruiter that you can trust, you get a unique insight into how employers think, what they're looking for in their next hire, and what they value in talent – all before you get introduced! Your recruiter is your advocate, and they have a vested interest in your success, meaning they'll do everything in their power to find you a job that is the right fit for your needs, skills, and aspirations.  
Other benefits of working with a recruiter include: 
They can show you more job opportunities that companies aren't advertising.

 

You'll receive expert advice on setting up your resume and

preparing for interviews

so you can put your best foot forward.

 

They can save you valuable time. Once a recruiter knows your skill set and what you're looking for in a job – they'll do the searching for you.

 

Recruiters have a direct line of communication with hiring managers, giving your resume a better chance of being seen over the rest of the application pile. 

 
5 Tips to Better Your Chances of Finding a Job with a Recruiter 
While there are many benefits to working with recruiters, it's easy to fall into the trap of thinking that all you have to do is show up to land the job. That is far from the truth. Here are five steps to better your chances of landing a job when working with a recruiter. 
Apply to an opportunity directly on the recruiting firm's site. 

 

Take your application process a step further and connect with the recruiter on LinkedIn to formally introduce yourself. 

 

Think about what you want out of your next job and where you want to be in the next five years. This information is invaluable to recruiters and will help them find the right fit for both you and their clients.

 

Be responsive to any messages from a recruiter – you never know if you'll miss out on an opportunity because you weren't quick enough!

 

Stay in touch. Even if the original role you applied for isn't a good fit, recruiters have many open positions they're trying to fill, and you may be the perfect addition for another client of theirs.

 
WideNet Can Help You Land Your Next Job in Tech 
If you're looking to work in tech, WideNet can make it happen! We value the success of our candidates, and we want to ensure that your next job is one you love. Our team of recruiters is here to help guide you through the entire job search process. Contact us today or apply directly to one of our open opportunities!